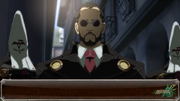 2cave is a non-playable character in Guilty Gear Xrd -Revelator-.
Design
Personalty
Story

This article or section is a stub. You can help the Guilty Gear Wiki by expanding it.
Allusions
2cave bears a resemblance to French actor Jean Reno, who portrayed an assassin in the film Léon: the Professional.
References